This is out list of our free patterns of crochet flower bouquets. We will cover everything you needed to crochet a flower at home. With our matching ideas and free patterns, videos, you can make stunning crochet flowers easily. Now let's get started!
We also have finished crochet flower bouquet for sale, you can place an order directly if you are in hurry and don't have enough time to do it yourself.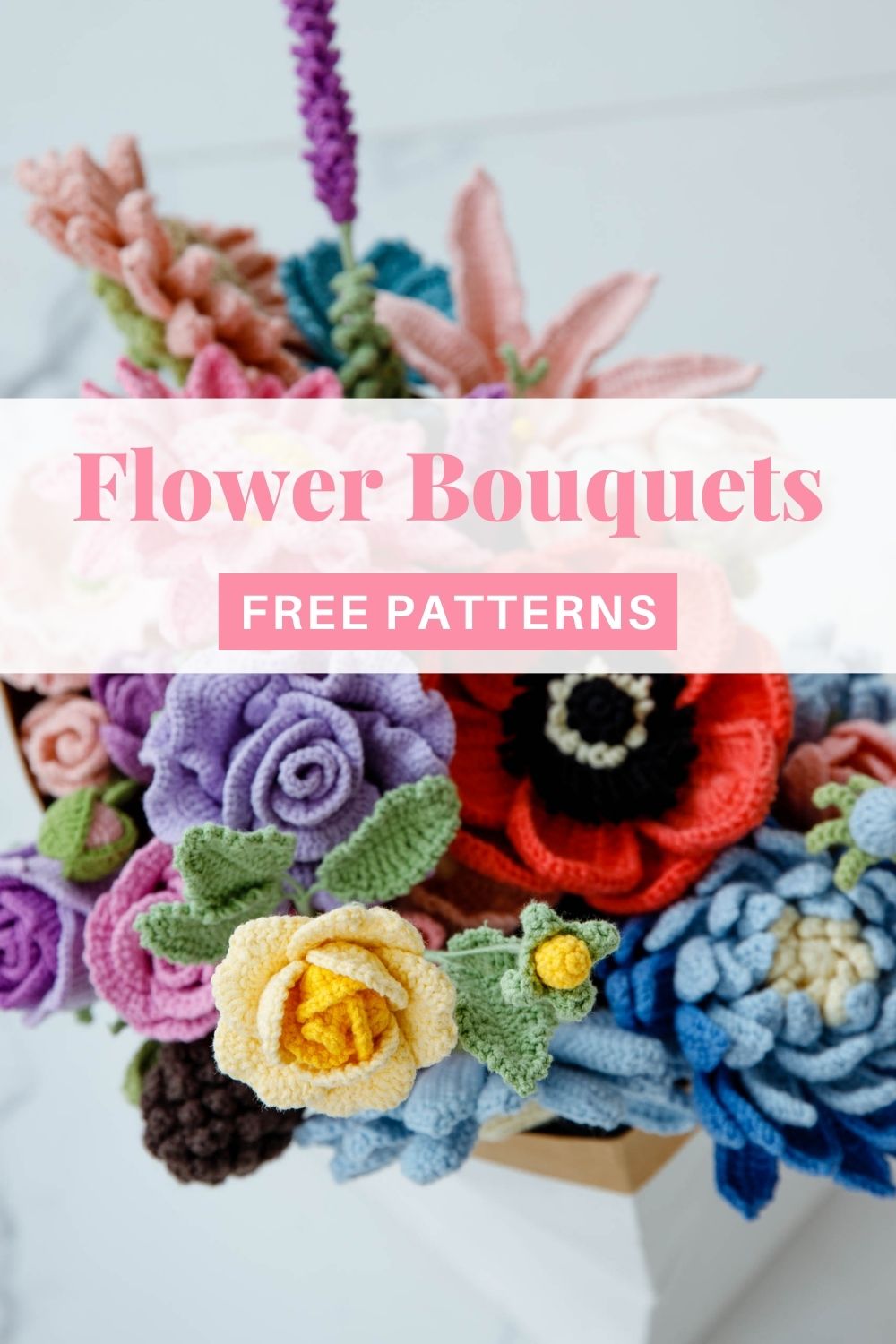 Crochet flower bouquet can be used as decoration for special occasions like weddings, baby showers, or birthday parties, or simply as a way to brighten up a room. One of the great things about crochet flower bouquets is that they can be customized to fit any color scheme or theme. Whether you prefer bright and bold colors or soft pastels, there is a pattern out there that will suit your needs.
If you're new to crochet, don't worry! There are plenty of beginner-friendly patterns we will list below. And for more experienced crocheters, there are more complex designs that will challenge your skills and allow you to create truly stunning bouquets.
Table of all of our free crochet flower bouquet patterns
This is the table of all of our free crochet flower bouquet patterns. You can find them directly or read ahead to learn how to make your own flower bouquet.
Materials needed for crochet flower bouquet
To create a crochet flower bouquet, you will need the following materials:
Crochet hook: we recommend using a 2.0 hook light weight cotton yarn for or 2.5 hook for light weight cotton yarn
Yarn (in various colors): choose light weight yarn for a more dedicate looking
Scissors: Essential for cutting yarn and finishing off your crochet project neatly.
Tapestry needle: optional for sunflowers, and African daisy
Stitch Marker: Optional but helpful for marking stitches and keeping track of your progress.
Flower Stem:either 30cm long or 40cm long depending on the usage of the flower bouquet. Those flower stem to bring your crochet lavender to life. For some of the flowers like sunflower, you may need to use 2 flower stem for each of the flower.
Hot Melt Glue: You will use this adhesive to assemble the different crochet pieces securely.
Iron Wire: We will also need iron wire to help hold the shape of our crochet flower bouquet.
So this may looks quite complex for beginners. Don't worry. If you are new to crochet and want to have a try of making your own crochet flower bouquet, we have read to use kit to choose from. With our starter kit, everything is included in the kit expect for scissor and hook (we offer this separately ), you can make a lovely flower bouquet at home quickly.
Choosing the right yarn
Different yarn types can give different textures and looks to the flowers. Here are some common yarn types used for crochet flower bouquets:
Cotton: This yarn type is durable and has a matte finish, making it perfect for creating a rustic or vintage look. Cotton yarn is 100% natural and healthy. There are lots of colors to choose from too. So it is the ideal for crochet flower bouquet. Most of our ready to sale flower bouquet is made with cotton yarn.
Acrylic: This yarn type is affordable and comes in a wide range of colors. It is also easy to care for, making it a popular choice for beginners. Acrylic yarn is also the most economist choice.
Wool: This yarn type is soft and warm, making it ideal for creating cozy-looking flowers. However, it may not be suitable for warmer climates. We have make sunflower with wool yarn. It looks super warm and cozy.
About the yarn weight: I suggest using fingering yarn for smaller flowers like forget me not, baby's breath and others. This yarn weight is thin and lightweight, making it perfect for creating delicate-looking flowers. For larger main flowers including sunflower, African daisy and Dahlia, light weight yarn can also work. We have bring the most suitable yarn for flower bouquet.
We have launched our crochet yarn, perfect for crochet flowers and decorations. This collection has more than 80 colors which can support all types of creations. Shop the yarn and turn your creativity into reality.
Outline of making a flower bouquet
Now all preparation is done, let's start to make the flower bouquet.
Prepare the materials and tools
Choose the main flower
Choose secondary flower and accent flower
Make some greenery
Decide arrange it as a flower bouquet or place in a vast directly. If you want to arrange it as a gift, you will need to arrange it as a bouquet. We also have a video showing this process of crochet flower arrangement. Comparing with fresh flowers, crochet flower bouquet is much easier to handle.
Main flower for crochet bouquet
The first step of drafting your crochet flower bouquet is to choose the main flower.The main flower is the star of your crochet flower bouquet. This focal bloom anchors the arrangement and influences the overall style, colors, and theme. With so many gorgeous options, how do you select the perfect main flower? Should it be a rose bouquet or sunflower bouquet. Following is our main flower patterns for crochet bouquet.
Crochet Sunflower pattern
Our sunflower pattern can make a lovely, stunning sunflower with petals, seeds and one leaf. The finished sunflower is around 10 cm in diameter and thus it is a great idea to use sunflower as the main focus flower of your bouquet.
Matching ideas: sunflower can match best with leafs, calla lily, love heart and daisy flower.
Check our free sunflower pattern, and materials kit here.
Rose patterns
Roses are one of the most popular flowers in the world, and they make a beautiful addition to any crochet flower bouquet. We have several different rose patterns and we will introduce them one by one.
Classic rose patterns
The classic rose looks like a glass so we name it as a glass rose too. It is arranged by several different petals. This rose looks super real and can be used as main flower of a rose bouquet. Most of the common colors can match well with this pattern. You can also make a gradient roses too.
Check our classic rose free pattern, and materials kit here.
matching ideas: following are some the best matching ideas of this classic rose pattern. Daisy, multi-head small rose, forget me not and fern leaves and olive. We found this rose to be super good looking and real.
Thai Rose
Our crochet Thai rose looks so good too. But it looks slightly differently from the classic rose. The flower is more openly blossomed.
Check: free Thai Rose pattern
Cappuccino Rose
Cappuccino rose is a self-tender rose variety, with the color of coffee, the texture of milk, vintage but without losing the softness of temperament. It is richly layered, with a long flowering period and very elegant flowers. You can use it to make bouquets with light coffee color wrapping paper, which comes with a sense of elegance. Whether it is a bouquet or a vase arrangement, it is the best choice for girls.
Check our free cappuccino rose pattern.
Memorial Rose
We named this wild rose memorial rose. Wild rose flowers are a symbol of love and beauty. In some cultures, they are also seen as a symbol of resilience and strength, as they are able to grow and thrive in harsh environments.
Check our free memorial rose pattern.
Crochet Gerbera pattern
Gerberas belong to the Gerbera genus, known for their bright, bold blooms in stunning hues like magenta, coral, yellow, and orange. They represent happiness, cheerfulness, and optimism with their vibrant energy.
The gerbara crochet pattern produces a flower that realistically mimics the layered petals and round shape of a real daisy bloom. It looks quite like sunflowers. With the similar size, gerbera can be a good focused main flower of a crochet bouquet.
Matching ideas: Gerbera can match well with most of the filler flowers. We suggest using 1 gerbera only for one bouquet.
Check our free gerbera pattern, and materials kit here.
Daisy Pattern
Daisies are a symbol of innocence, purity, and new beginnings. They are a popular choice for crochet flower bouquets because of their simplicity and versatility. The daisy pattern is easy to crochet, and it can be modified to create different sizes and colors. Check our free daisy pattern here.
Matching ideas: daisy is a great accent flower for crochet flower bouquets. You can use it as main flower to make a wild style bouquet with leaf and other flowers. Following are our favorite ways of using daisy flower in crochet bouquet.
Check: free daisy pattern.
Tulip Pattern
Tulips are a symbol of love, passion, and elegance. They are a popular choice for crochet flower bouquets because of their graceful shape and delicate petals. We have open tulip as a tulip flower and a stuffed version which is more cute.
Matching ideas: you can use tulip as the main flower of a bouquet, pink, yellow or purple are great. You can also use it as a matching of rose and some other filling flowers.
Related pattern: free open tulip pattern, free stuffed tulip pattern, and materials kit here.
Crochet Dahlia flower
Dahlias represent dignity, elegance, and a commitment to an idea or person. We love it because of the large, multilayered blooms and vivid colors.
The dahlia crochet pattern produces flowers that mimic the real blooms. They start with a central core that is worked in rounds. Then, successive rows of petals are worked around the central rounds, usually in groupings that form the layered petals. Our complete crochet dahlia has a signature round, multilayered shape which make it an ideal center main flower of any bouquet.
Check our free dahlia flower pattern.
Crochet Anemones Pattern
Anemones symbolize anticipation, protection, and forsaken love. With our crochet anemones pattern, you can make a lovely center main flower that can capture all the attentions.
matches: anemones can be super beautiful but it can match well with smaller flowers like rose, tulip and gesang flowers.
Check our Free anemones pattern.
Crochet Water Lily pattern
Water lilies are gorgeous aquatic flowers that have inspired artists and symbolized purity throughout history. Their rounded floating leaves and delicate blooms dot the surfaces of ponds and slow-moving rivers in shades of white, pink, yellow, and blue. Our crochet water lily is around 15 cm in diameter. So it is a great way of expressing your unique idea of the bouquet.
Check our free water lily pattern.
Lily pattern
Lilies are trumpet-shaped, fragrant, and mostly white. They have elegant flowers and verdant, graceful foliage, with high ornamental value. In many places around the world, the lily has the meaning of a hundred years of good luck and symbolizes purity. In addition, symbolizing "harmony" and "elegance", lilies can be combined with roses, eustomas, and other flowers for festive decoration.
Check our free lily pattern, and materials kit here.
Corn Poppy pattern
Corn poppies are solitary, long-stalked, with 4 petals. The petals are suborbicular and about 5-6 centimeters in diameter. Corn poppy and poppy belong to the same family. In appearance, they are very similar, but there are still many differences. It comes in a variety of colors, such as white and pink, and the different color each has different flower language. White flower symbolizes holiness and comfort, while pink flower symbolizes fidelity, and can be given to a beloved lover as a sign of steadfastness.
Check our free corn poppy pattern.
Secondary and Accent Flower Bouquet Patterns
Pink champion Pattern
The pink Champion flower is a beautiful crochet pattern that results in lush, full blooms flowers. The pink champion pattern pattern using afghan stitch: the forward and the return, also known as the "forward pass" and the "return pass". It can be great accent flower for your bouquet.
Check our free pink champion pattern.
Calla Lily Pattern
Calla lilies make an excellent secondary flower in a crocheted bouquet because their smooth texture, elegant tubular shape, and variety of colors and sizes contrast beautifully against the yarn flowers. Tucking calla stems selectively throughout the bouquet adds visual interest and fills empty spaces with their distinctive leaves and blooms.
Check our free calla lily pattern.
Berries and fruits
Adding some berries and fruit into the bouquet will make it super special. Berries and fruits have a lovely round shape which can make the comparison of the crochet bouquet.
Check strawberry free pattern, lemon free pattern.
Lavender pattern
Lavender is native to the Mediterranean coast, Europe and Oceania islands. Its leaves and flowers are beautiful and elegant. The language of the lavender flower is "waiting for love", symbolizing a subtle sign of love and a firm commitment. Lavender can be a great option if you love purple and pink bouquets. It can be used as the secondary flower or an accent flower of crochet flower bouquet.
In addition, it is beginner friendly, so you can try to crochet it with the help of our patterns. And if you need, we also have lavender kits for sale.
Check: crochet lavender pattern, and materials kit here.
Wild flower pattern
This kind of wild flower has a slender stem, two blooming flowers and a small immature bud. With its thin petals and leaves, it's perfect as a secondary flower in a bouquet that won't steal the show from the main flower while still decorating the bouquet.
Check: crochet wild flower pattern.
Pine Cone
Pine cones, also known as piñatas, are the fruit of the pine tree. Pine cone can be a great secondary elements for crochet bouquet especially for Christmas bouquet and winter bouquets.
Check: Crochet Pine Cone.
Cotton flower
Cotton flower is super easy to crochet and it has a lovely earthy color and round shape. The cotton flower can symbolize cherishing those around you, good luck, wealth, the afterlife, purity, and mother love. It's suitable for bouquets for autumn and winter.
Check: free cotton flower pattern.
Freesia pattern
Native to Southern Africa, Freesia is the genus of flowering plants in the Iridaceae family. Each freesia stem can grow about a foot high, producing several trumpet-shaped, upward-facing blossoms. They grow along one side of the stem in a single line. Freesias are one of the most popular gifts for friends and families across cultures.
Check: Crochet Freesia.
Filling small flowers
Our filling small flowers including forgot met not and baby's breath.
Forgot me not
Forgot me not is a super easy to crochet flower for beginners. It can work as a filling small flower to a bouquet. Either pure color or mixed color can be used to crochet this lovely small flower.
Check: free crochet forget me not pattern.
Baby's breath
Baby's breath can be a super great filling because it has multiple stems with lots of small flowers on head.
Check: free baby's breath pattern.
Greenery
In addition to various beautiful flowers in the bouquet, you also need to add some green leaves as accents.
Fern Leaf
Ferns have complex leaves, so often called megaphylls. It looks complicated to make, but it's actually basically a repetitive operation.
Big Leaf
This big leaf is actually a musa basjoo leaf. The leaves are large, narrow, bright green, paddle-shaped, oblong, or lance-shaped.
Check fern leaf pattern, and big leaf pattern.
Tips for Creating a Beautiful Bouquet
When creating a crochet flower bouquet, there are a few tips to keep in mind:
Vary the size and shape of your flowers to create interest and depth.
Use a variety of colors to add dimension and contrast.
Consider adding leaves or other greenery to fill in gaps and create a more natural look.
Maintaining Your Crochet Flower Bouquet
Once you've completed your crochet flower bouquet, you'll want to take steps to ensure it lasts as long as possible. Here are a few tips for maintaining the lovely crochet flower bouquet.
Keep It Clean
Dust and dirt can accumulate on your crochet flower bouquet over time, making it look less vibrant. To keep your bouquet looking fresh, gently dust it with a soft-bristled brush or use a can of compressed air to blow away any debris.
Store It Properly
It's important to store your crochet bouquet in a way that will prevent it from getting crushed or damaged. Consider using a vase or other container that will hold the bouquet upright and prevent it from getting tangled or bent. Don't press them or drag the flowers forcefully.
Avoid Direct Sunlight
Direct sunlight can cause the colors in your crochet flower bouquet to fade over time. To prevent this, keep your bouquet out of direct sunlight and away from sources of heat.
What's Next
Now after all of this, you must have some idea of how to make your own flower bouquet. If you make your own mix, we love to hear your feedback about everything for the color, the arrangement and more. Happy crocheting.
By the way, remember to bookmark this page as we will continue updating with new flower bouquet free patterns.