Wool Sunflower Bouquet Kits-with PDF pattern
$8.90 – $30.00
Our flower bouquet kits include all the tools and yarns you need to crochet this wool sunflower bouquet, very friendly for even beginners. In addition, we will offer you free patterns (a printed book and PDF) and video tutorial of the flowers. DIY crochet flower at home, crochet beginner kit.
This is a all in one wool sunflower bouquet kit. With this one, you can crochet 1 wool sunflower, 1 small daisy, 1 loving heart, 1 tung-oil flower, 1 monstera leaf, and 1 big leaf.
We make a perfect color match to make your handmade crochet bouquet outstanding. Pink and purple will make the bouquet more vivid. Unlike simply color bouquets, well matched color looks much prettier.
What's Inside:
Premium Yarn: Soft, durable, and in the perfect hues to replicate the natural charm of wool sunflower.
Specialized Hook: Ergonomically designed for a comfortable grip, ensuring seamless crafting sessions.
Iron Wire: Malleable yet sturdy, it gives the perfect structure to your crochet flowers, making them stand tall and proud.
Flower Rod: for assembling your bouquet, giving it a professional, cohesive look.
Hot Melt Glue: for assembling the flowers.
Fiberfill: for stuffing the flower buds and heart
Printed Patterns
Downloadable PDF Patterns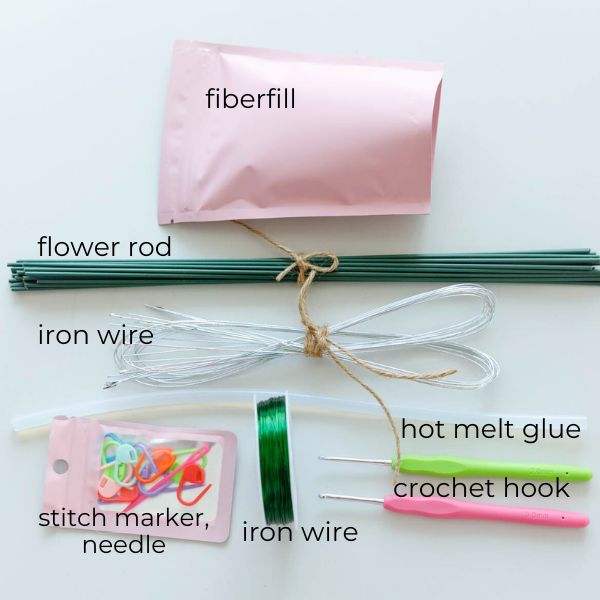 Why You'll Love This:
Authentic Experience: Get the joy of having flowers without the worry of them withering away.
Wonderful colors: We include yarn with different colors, so you can make the bouquet look much better than single color or simply mixed color bouquets.
This is beginner friendly: Even if you are a beginner, you can make this as a great start to learn crochet flower bouquets with the help of our step by step patterns.
Skill Enhancing: Whether you're a beginner or a seasoned crocheter, this kit is designed to elevate your skills and passion for crocheting flower bouquets.
Perfect Gift: Surprise your loved ones with a handmade bouquet. Or this can be an ideal gift for friends and families who loves crocheting.
Home Décor: These forever-blooming flowers make for the perfect accent pieces in your living space.
| | |
| --- | --- |
| color | Kits+Patterns, Patterns Only |